Japan April 2004
Tokyo, Osaka, Hiroshima, Kyoto, Nara, etc
THIS PAGE IS STILL UNDER CONSTRUCTION!

KEEP CHECKING FOR NEW PHOTOS
Thursday 22 April - Friday 23 April
A very good flight with BA World Traveller Plus, more legroom and a slightly wider seat, to Tokyo. Food good, films good, but still didn't manage to doze for more than an hour or so. Landed at 9 a.m. at Narita airport and our bags were through quickly and there was no wait at passport control. By 9.45 a.m. we were waiting on the station for the Narita express train to Tokyo, eating chocolate almonds! The train was very fast, clean and with air conditioning. We passed lots of paddy fields, sometimes with a tractor and field worker. As we approached Tokyo every inch of space was taken up by houses, flats, buildings and paddy fields, gardens and vegetable plots. Some of the paddy fields were very small and irregularly shaped to use up all the available land. At Tokyo station we again battled with the suitcases up and down the escalators. We took 2 separate cabs to the New Otani Hotel. We were amazed at the taxis – they had white lace curtains and seat covers and the drivers wore white gloves!

We were in our rooms by midday and after hanging up a few clothes, we fell into bed and slept until 3 p.m. A quick shower and out to walk in the hotel's beautiful 400-year old traditional Japanese garden complete with koi ponds. It was very windy and cooler than expected. From the garden we walked out to the Shinbashi area (on the edge of Ginza) and passed commercial buildings into the bustling city, through smaller streets with shoe-shine boys and girls. Dishes at restaurants are displayed outside in plastic versions; see before you buy! All the Japanese we have met are very friendly and smiling; bowing continuously to us and to each other. Took the train to Roppongi and ate at Tony Romas, very good ribs followed by chocolate brownies. Round the corner from Tony Romas was the Cavern Club where the Silver Beats were playing to a packed house of enthusiastic Beatles fans! We were the only non-Japanese. They were an excellent tribute band and 'John Lennon' was especially good and was remarkably like the original version! We had a great time singing along to all the old favourites with the locals. As we left the Cavern, we could see Tokyo Tower lit up at night. Taxi back to the hotel as we were exhausted!

Must mention our hotel room loo. When you sat down a green 'stand by' light came on and the water cistern filled up! After using the loo could then press other buttons for male or female douche type warm wash!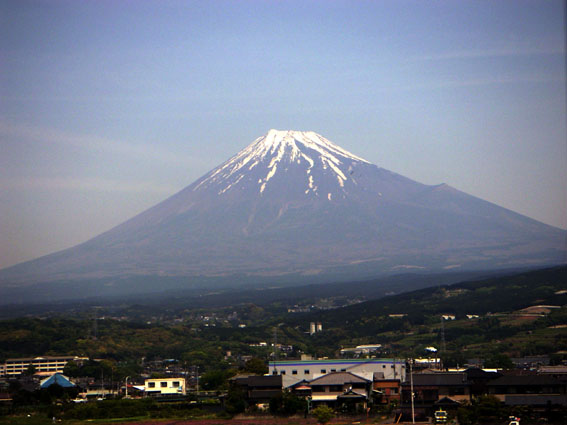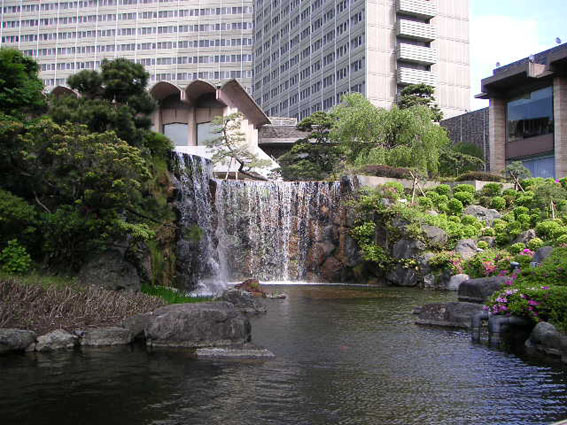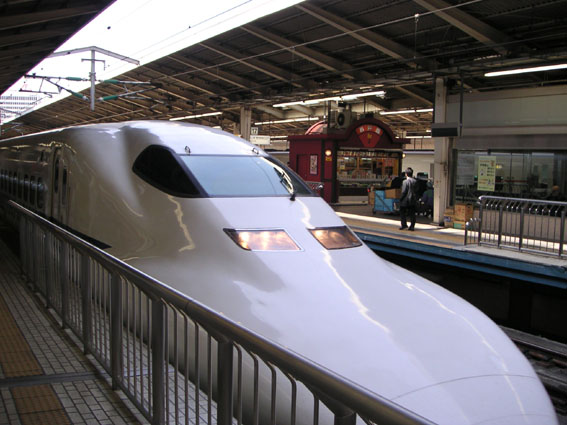 Saturday 24 April
Awoke twice in the night and didn't sleep from 5 a.m. Weather bright and breezy. Great breakfast in top floor of the tower restaurant with choice of juices, fresh fruit and various cereals and pastries. Also available were omelettes and bacon and Japanese style breakfast, all with very good English tea, and views over the city. Walked in the hotel garden to admire the koi. Then on to the Imperial Palace Plaza to see the Nijubashi Bridge and moat. The Plaza is a wide gravel square surrounded by specimen trees and grass. Trees looked like giant bonsai. The Palace itself is hidden from view by trees but we were able to walk round the East Garden where there were many azaleas, often grown close together and clipped as a hedge. We also saw hostas in flower and bamboo and even yellow roses grown on a support to look like a table. It was very quiet and peaceful away from the busy Tokyo traffic.

We managed to navigate ourselves on the metro to get to Asakusa to visit the Kannon Temple which is found at the end of a busy avenue of small shops selling kimonos, dolls, toys, sweets etc. The road was packed with visitors and very colourful. Rickshaw drivers (men and women) were running up and down the busy main street carrying two adults each. The whole area had the flavour of old Japan. Near the temple incense burned in a bronze urn and the locals 'washed' in the smoke. Coins were thrown in front of the temple for good luck. Blake bumped into an old Swiss business colleague just as we were going into the temple.

We again muddled our way through the metro to get to "Electric City". Every conceivable household and leisure electrical items were for sale in shops; some like small covered market stalls and others very large and on many floors. Blake finally purchased a new Sony camera after finding the cheapest price. We then took the metro to Tokyo Tower (modelled on the Eiffel Tower but 10 metres taller). Great views from the observatory platform. We could just see Mount Fuji in the distance. We took a taxi back to the hotel for afternoon tea (we hadn't had lunch, just a Starbucks coffee and Danish at Asakusa, so felt we deserved it!) Judy and I had tea and scones whilst Blake and Graham had club sandwiches. From where we sat in the Garden Lounge, we had a good vantage point for people watching! As it was a Saturday, many weddings had taken place and wedding parties complete with bride, groom and bridesmaids walked to and from the restaurant areas where private receptions were held. Guests were smartly dressed and some of the women wore kimonos. All carried posh carrier bags with gifts they had been given by the happy couple. The marriage ceremony is performed wearing traditional dress (kimono) and a western style wedding dress is worn for the reception. After a couple of hours rest/sleep we ate at Trader Vic's in the hotel; it was very good if a bit expensive at £55 per head. The New Otani Hotel is not cheap but is a wonderful place to stay with every conceivable comfort and 19 bars and restaurants as well as some very nice boutique shops.


Sunday 25 April
Another bright and sunny if breezy, start to the day. This morning we ate breakfast in the Garden restaurant overlooking the koi pond in the Japanese garden. Took the train to Shinjuku and explored some of the department stores including Isetan. As we walked through one store at opening time, the sales assistants waiting by the till points, all bowed in greeting, we felt like royalty! We particularly enjoyed looking at the china departments and the kimonos, especially the wedding kimonos, some of which are made from exquisitely designed material with gold thread. We also saw the hair combs and shoes and little bags that are worn with them. Looked round the Tiffany store and admired the diamonds but Blake and Graham were not feeling generous! After coffee and Danish at Starbucks (where else!) we caught the train over to Shinbuya (Times Square) to see all the neon lit advertising hoardings and the throngs of people – it was very noisy with traffic, pedestrians and shopkeepers shouting out their wares. This area is featured in the film "Lost in Translation". Graham tried his luck in a pachinko slot machine arcade. All the machines play bagatelle and successful players had plastic containers full of their ball winnings lined up along the floor, to be cashed up later.

A train ride out to Yoyogi Park was next to see the musicians and dancers perform. Some would-be Elvis look-a-likes were break-dancing wearing very worn out winkle pickers held together with sellotape! Three young girls (Miss Dynamite types) were dancing along to pop music. A group of bongo drummers played long and loud, and a mime artist did his stuff – looked like he was imitating a bird. Boys were balancing and kicking up from their feet a small leather-like hack-a-sack ball, a bit like they were practicing their football skills. We saw several pop groups and one particularly handsome group had a good number of young female fans. Vendors sold all kinds of food from open-air stalls. Lots of women were dressed up in kimonos; it was as if they were making an effort for Sunday afternoon. Our feet ached from walking for six hours. So it was back to the hotel for another very civilised afternoon tea and a spot of people watching.

Tokyo is a very safe city with little crime; for example, handbags can be left on the table while the owner visits the ladies. Every variety of drink, hot and cold, is available from vending machines which are on every street and station platform; as are cigarette machines as a lot of the Japanese smoke. The youngsters are very keen on fashion and designer labels. Lots of the girls are knock-kneed and bandy and totter about on ill suited high-heeled shoes or slop about in badly fitting low heeled ones. Everywhere we had been in Tokyo we had noticed large, ugly, black birds with slightly hooked beaks, possibly crows, flying over the buildings and parks making their noisy 'cawing' call.

We ate at the hotel's Sekishin-tei restaurant in the Japanese garden. Teppanyaki style food was cooked in front of us on a hot plate by our own chef. We had beef fillet, scallops, prawns, red snapper, fried garlic, green vegetables and salad and soup followed by fresh fruit and green tea. It was really good food and fun to eat and even more expensive than last night!

Monday 26 April
Up early for 7 a.m. breakfast in the Tower breakfast room. We arrived at Tokyo station in plenty of time for the 10.13 a.m. bullet train Nozomi No. 71 to Shin Osaka. We were able to watch the arrival and departure of other bullet trains and to observe the teams of cleaners enter the train as the passengers departed (bowing to them as they left). Uniformed conductors, drivers and train hostesses and security personnel were all ready waiting on platforms for the train. (The Japanese employ lots of uniformed staff who don't seem to do much except 'be there'). We enjoyed tinned hot, sweet coffee whilst we waited. Our train pulled in, the waiting cleaners entered and cleaned the seats, bins, toilets etc. and then we were allowed to board. We had reserved seats in car number 8, one of the first class 'green cars'. These were very comfortable reclining seats with lap trays as well as trays that dropped down from the seat in front, and sturdy foot rests and coat hooks. The hostess brought along trolleys of sandwiches, biscuits, ice cream, tea, coffee and water for passengers to purchase. In spite of all the automated ticket barriers we had been through, our tickets were still inspected by a uniformed ticket inspector who bowed to the whole carriage as he exited. The train had Japanese style squat toilets as well as western ones. (Paper towels or dryers are never provided. Japanese women carry a small towel with them at all times.) The train left exactly at 10.13 a.m. and the journey took 2_ hours travelling extremely smoothly at very fast speeds. We passed rice fields, tea plantations, factories, commercial areas, small towns and sprawling large towns. In some areas the houses seemed to be in the middle of paddy fields. Then we saw green wooded hills and dark mountains in the distance. We passed Mount Fuji (snow capped as usual). We were on the 'wrong side' of the train and had to scramble out to the corridor/door area to take our photos. The route took us round part of Mount Fuji. It was difficult to take photos because of either being passed by another bullet train, going through tunnels, or telegraph poles, hedges and trees etc. kept getting in the way. We arrived at Osaka exactly on time (12.49 p.m.) and took 2 taxis to the Hotel Nikko.

Judy's eye (which had become swollen with a sty over the past day or so) was now very painful so while she and Blake saw an eye doctor, Graham and I bravely took the train by ourselves to the Umeda Sky Building to see the Floating Garden Observatory. We had a long walk round a freight depot area to get to it but it was worthwhile. It was a very modern building and reminded us a bit of La Defense in Paris. We took the see-through elevator to the 35th floor and then the see-through escalator to the 39th open-air floor. We had good views of Osaka airport, Yodo river and its many bridges, and the hotels and commercial buildings of this modern city. The water gardens were all around the building at ground level. Found a quicker way back to the station by way of an underpass. Judy had been given antibiotics and eye drops by the English speaking doctor. We ate at the New München Restaurant which was really a very basic German café. Beer drinking music played whilst Judy and I ate fried chicken and chips and garlic bread and Blake and Graham fried lobster, prawns and sausages! All of which was not really very good. Got the giggles reading the menu which offered "legular" chicken, "shuffled" salad and quick fried "noodies". Strolled round the shopping malls afterwards which were full of youngsters with strange fashion ideas, and lots of huge neon lit advertising. Enjoyed a nightcap in the hotel bar listening to a young lady pianist playing and singing, again problems with "r" and "l"! There was a large cover charge for the privilege!

Tuesday 27 April
Breakfast at 6.30 a.m. in order to meet our tour guide at 7.10 a.m. to join the tour for Kyoto which was the capital of Japan for over 1,000 years. It was absolutely teeming down with rain. We travelled by train to Kyoto and were impressed by the very modern architecture of Kyoto station. We went by coach to the Nijo Castle which was originally built in 1603 as the official Kyoto residence of the first Tokugawa Shogun and completed in 1626 by the third Shogun Iemitsu. The fifteenth Tokugawa Shogun restored sovereignty to the Emperor in 1867 and the castle was returned to the Imperial family in 1884. It was donated to the City of Kyoto in 1939 and subsequently opened to the public. The castle consisted of the guardhouse, gates, Ninomaru Palace and gardens and various other buildings which were difficult to see through the pouring rain. In the Palace, after leaving our shoes outside, we were able to see a series of rooms lined with sliding doors (with beautiful pictures of peacocks, willows and cherry blossoms, and also tigers on the receiving room walls). The doors slid back to enable the armed guards, hidden behind them, to protect the Shogun in the event of attack by visitors. The wooden floors from the entrance of the palace to the Ohiroma (Grand Chambers) were laid over nails set to make the floor squeak like a bird to warn of anyone approaching, hence the name 'Nightingale Floor'. Visiting feudal lords would wear their dress/day sword only and a very heavy and long kimono to prevent them charging at the Shogun to attack him. The innermost chambers (Shiro-Shoin) were the Shogun's living quarters and were decorated in a more modest and quiet mood to create a relaxing atmosphere for his daily life. Only female attendants were allowed which meant that the guards hiding behind the sliding screens would be female too. The Shogun had between 3 and 30 concubines in the harem. The outer walls of the palace had woodcarving and painted ceilings and the outer sliding doors had rice paper windows to keep out the cold and wet.

We went on to the Golden Pavilion, Kinkakuji Temple. The rain was now really spoiling the day. The Pavilion is set on the edge of a mirror pond in a beautiful Japanese garden, which we were able to walk round but not enjoy because of the slanting rain. The Pavilion has 3 floors, the second and third are covered with gold leaf on Japanese lacquer. The roof, upon which the Chinese phoenix sits, is thatched with shingles. We had a lightening visit to look at the outside of some of the thatched roofed wooden buildings which made up the Imperial Palace. The Shishinden (Ceremonial Hall), rebuilt in 1855, is the most important building and was used for important ceremonies of state such as enthronement ceremonies. It is draped with silks and decorated with the imperial 16-petalled chrysanthemum. On the side of the stairs leading to the entrance, there is a cherry tree to the east and an orange tree to the west. From underneath the umbrella we were able to admire the Oike-niwa garden, which featured a large pond with stepping stones and an arc-shaped bridge that went right across the pond. After a visit to the handicraft centre we returned to Osaka by train.

Back at the Nikko Hotel we changed into dry clothes and went out to admire more kimonos in the department stores. The price of the very elaborately decorated with gold thread kimonos can be up to 2 million yen. We enjoyed our Mexican meal of burritos together with the friendly service and Mexican music and alcohol. Next it was on to a Karaoke booth where we all sang 'Eight Days a Week' and Graham gave a lusty rendition of 'My Way'. Blake was very animated after 3 margaritas!


Wednesday 28 April
At breakfast Blake bumped into Shirro with whom he had worked for many years! We checked out leaving our laundry and large suitcases for when we got back to Osaka tomorrow lunch time. We took the shinkansen to Hiroshima. The scenery was similar to the last train journey; towns, industry and green tree covered hills in the background. Part way through the journey three prisoners or mental patients, tied together, were led up and down our carriage by plain clothed guards, one either end of the line, presumably for exercise or toilet break. In a country where every worker seems to wear a uniform, this seemed odd.

After checking into the Gran Via hotel at Hiroshima, we took a taxi to the Peace Memorial Park. The Park was laid out with various monuments and shrines to the groups of people who had died as a result of the 'A' bomb dropped on Hiroshima at 8.15 a.m. on 6 August 1945. It was a large open park with many statues, a Bell of Peace which could be rung, plants, trees and lawns and was very peaceful and beautiful. The names of all those who died are kept in a vault at one of the shrines. The Prefectural Industrial Promotion Hall over which the bomb detonated, is preserved in its damaged state and is now known as the A Bomb Dome. The park was full of visiting school children and the sound of their laughter was very uplifting. The Museum displayed belongings left by the victims, photos etc. and exhibits described Hiroshima and its way of life before and after the bombing. Each of the items showed the grief, anger and pain of real people. The stories of the victims and survivors were very moving and extremely tastefully presented.

Grabbed a sandwich and coffee in the town and met Mishta, a happy, smiling young lady of about 5 years of age; Graham was smitten! Hiroshima is a very modern city with plenty of clubs, bars, restaurants and amusement arcades - pachinko and slots. We ate our evening meal at a robot sushi bar. Interesting and inexpensive. Small colour-coded plates of food on a conveyor belt pass by your seat and you can take whatever you fancy as it passes by. I tried tuna, salmon, and white bait, which were all very good. At the end of the evening the waitress adds up the total number of empty plates at your place and you are charged accordingly. Drinks were a choice of beer, sake, orange juice or coca-cola.


Thursday 29 April
Breakfast at 6.30 a.m. It was a beautiful sunny day as we took the JR train from Hiroshima to Miyajimaguchi and then the ferry to Miyajima Island. The island is home to several parks, temples and shrines along with an aquarium and a cable car up to Mt Misen (530 metres above sea level). We spent a leisurely and relaxing couple of hours admiring the unique Itsukushima Shrine, rebuilt in 1168, which is a series of linked temples standing in the sea. The spectacular vermilion coloured Otorii Gate (Grand Gate) stands about 200 metres in front of the main shrine in the sea, and has become the symbol of Miyajima. Deer were roaming the paths and were available for photo shoots in front of the Gate. We climbed up to view the impressive Five-Storied Pagoda, 27 metres high, which has a picture of Buddha painted on an inside wall.

We caught the 12.28 p.m. shinkansen back to Osaka and checked in again at the Nikko Hotel to be reunited with our bags and our laundry. Set off straight away for the train out to Nara to see the large bronze Buddha in the Todaiji Temple, which is the largest wooden structure in the world. The huge park surrounding the Temple had deer wandering about amongst the many Japanese who were on holiday, as it was the start of Golden Week.

Our last night in Japan and as we had another early start the next day to fly to Beijing, we ate at the hotel's evening buffet, with wine and liqueurs inclusive. It was very good. We were able to pick western style food and felt we'd be ready to tackle the 9 days of Chinese food to come!

We had really enjoyed our taste of Japan, and had found the people friendly and welcoming and the country wonderfully clean and efficient. Blake proved to be an excellent guide and his command of the language and knowledge of the cities was impressive.